Now
Be a Digital Marketing Expert in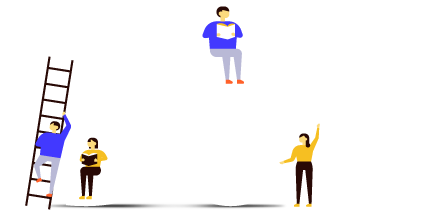 Ace the art from Best Digital Marketing Training Institute in Bangalore and be a certified expert! Master A-Z's of digital marketing course from the best mentors in the industry!
Pay per click commonly referred to as PPC, has become an integral part of most search engine marketing campaigns today. Advertisers are increasingly relying on PPC to help their product or service garner customer attention. This is because PPC doesn't just enable them to drive traffic towards their website and generate potential sales but it also leads to a direct increase in their revenues.
The importance of PPC can be gauged by the fact that it is currently a major criterion on the basis of which organizations hire their employees. A specialization in PPC can help individuals improve their chances of securing a well-paying job.
This is why, we, at CloutLearn, Training Institutes in Bangalore with Placements offer our students an exclusive opportunity to equip themselves with all the intricacies of PPC. Our well-crafted PPC Course in Bangalore is specifically designed to help them gather both, comprehensive knowledge and first-hand experience.
What Does Our PPC Course Offer?
PPC is essentially a model of digital marketing in which advertisers have to pay a certain amount of fee every time someone clicks on their ad. In other words, it is a way to buy web traffic instead of earning it organically. These ads are usually displayed on search engines linking search engine marketing and PPC inextricably.

Our PPC classes train the students in:
– Various aspects of PPC training course ranging from search engine marketing and mobile app marketing to YouTube and affiliate marketing.
– Building a successful PPC campaign includes choosing the right keywords and organizing them effectively.
– Creating PPC landing pages which are optimized to meet the customer's needs and facilitate conversions.
– Learning how site analytics provide relevant and valuable insights to help prioritize PPC efforts.
– Preparing a cost-effective PPC strategy which is budget compliant and SEO-friendly.
– Gaining practical experience of Google Adwords Certification Course bangalore and lead generation which are the foundations of PPC training course.

The primary purpose of our PPC training course is to impart capability, proficiency, and skill to our trainees.
What Is Our Training Methodology?
Being one of the best PPC training course in Bangalore, CloutLearn has an edge over its competitors due to its training methodology. We provide:

– PPC classes in both video and live formats so that the students can interact, experiment, and learn flexibly.
– Strengthening the theory but focusing on practical learning through active demonstration and in-depth analysis.
– Usage of presentations, case studies, interactive quizzes, group discussions, and real-life examples as a medium of instruction.
– Personal attention to each trainee in the PPC course so that their understanding is bolstered.
– A PPC training course curriculum developed by the leading minds of the digital world.
– Unlimited access to key tools like Google Adwords, Google Analytics and other PPC learning software to help them practice.
– A crisp and rigorous course module that lasts for 72 hours but provides lifelong access to our digital resources.

What Skills Does PPC Training Teach?
After completing this PPC training in Bangalore you will be able to:

– Familiarise yourself with ranking algorithms and paid search.
– Recognize how search engines affect paid campaigns.
– Analyze historical PPC trends & use these patterns for better results.
– Compare and measure the impact of keywords.
– Choose specific features which are best-suited for advertising.
– Carry out research, and calculate ROI to track outcome.


Not only is our PPC course useful for entry-level freshers but it also caters to the needs of professionals who want to specialize in PPC campaigns, entrepreneurs who want to use PPC for enhancing their business prospects and freelancers who want to diversify their marketing portfolio.
At CloutLearn, our aim is to empower you in such a way that you are able to use all the cyber platforms efficiently. Our PPC classes in bangalore are intensive, effective, simple and fun. In fact, the entire PPC training course is fashioned around matching market standards, fulfilling recurrent demand and meeting your precise needs.
So, if you are looking for an institute which provides the best PPC training in Bangalore, look no further than CloutLearn. We harbour just the right mix of reliability, capacity, and excellence for you.
Get Hands on Experience in Tools & Softwares
| | | | | | |
| --- | --- | --- | --- | --- | --- |
| Google AdWords | Shopify | WooCommerce | MailChimp | Smartlook | PrestaShop |
| SEO PowerSuite | SEMrush | Google Tag Manager | SocialPilot | Magento | Wordpress |
Our Clients








Copyright © 2023 Clout Learn - Corporate Training Companies