Now
Be a Digital Marketing Expert in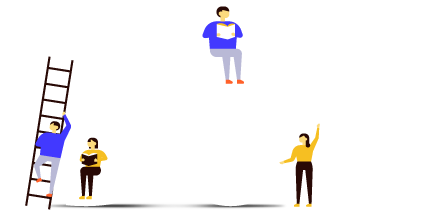 Ace the art from Best Digital Marketing Training Institute in Bangalore and be a certified expert! Master A-Z's of digital marketing course from the best mentors in the industry!
Social Media Training Courses in Bangalore
Social media has become one of the most preferred ways to increase a brand's exposure, especially when it is just starting out. This is because having a large number of followers on social media increases trust among customers. Consequently, a large number of job openings have also opened up in this field.
To learn the ins-and-outs of social media optimization or build a career in social media services, many aspiring practitioners pursue the best social media training courses. This might take the form of comprehensive social media certification programs or individual social media marketing courses.
But first, let's learn what social media marketing is.
What is Social Media Marketing?
PPC is essentially a model of digital marketing in which advertisers have to pay a certain amount of fee every time someone clicks on their ad. In other words, it is a way to buy web traffic instead of earning it organically. These ads are usually displayed on search engines linking search engine marketing and PPC inextricably.
Online marketing efforts that are initiated through various social media platforms like Twitter, Facebook, and Instagram (being some of the more popular ones) is called social media marketing.
The combination of social media management which is the process of building large organic communities on social sites with social media advertising helps funnel new followers into these online communities. Engagement with members of these communities is then leveraged to promote products, services, or ideas.
Campaigns like these can be very effective when assisted with a knowledgeable and experienced social media strategist. An expert in social media, working for a particular brand is capable of managing social media, communicating directly with the followers, and noting social media analytics.
Why Take A Social Media Marketing Course?
Getting trained by renowned and reputed institutes like CloutLearn on Social Media Marketing will even help you make a career out of it as it is one of the top best social media marketing courses. They have various training modules that focus on various key points of the social media landscape like branding, social presence, and customer interaction.
The training is imparted using advanced and effective social media techniques. The purpose of these courses is to sharpen the skills of the learners and prepare them to tackle the challenges of the industry head-on. The students are taught using a variety of teaching methods including online reference materials, live training sessions, and virtual reality.
What Will This Teach You?
People who excel in these courses and related careers typically share a unique combination of skills. They tend to be good communicators, and they possess the ability to write clearly and succinctly, which helps when posts are limited by character counts.
Marketing savvy is also a must-have as it's critical to understand the customer and keep the business goals in mind. Finally, they also possess analytical minds with a talent for understanding data, an ability to synthesize reports, and an aptitude for learning online tools quickly and efficiently.
If social media marketing is your field of interest, it is essential to undergo social media marketing training and do that from the best social media marketing courses.
Cloutlearn has become one of the top social media marketing courses in Bangalore and will help you achieve the social media mastery across different platforms.
What Are Your Career Prospects After the Completion of Our Course?
Social Media Analyst.
Social Media Executive.
Social Media Manager.
Why Should You Choose Cloutlearn for Your Social Media Marketing Training?
Social Media Marketing Training: What's included?
Social vs traditional marketing.
Current social media trends.
Relevant social media success stories (global & Indian).
Social media strategy and best practices.
Tools and workflow of social media management.
Community management (responding to comments, driving engagement).
Facebook marketing and advertising.
Twitter as a social media marketing platform.
Video and visual marketing.
LinkedIn as a professional network.
Instagram, Pinterest, SnapChat, and more.
Different paradigms of social media.
Other Courses Offered by Cloutlearn
Affiliate marketing.
Content marketing.
Digital marketing.
Email marketing.
Google AdWords.
Google Analytics.
Lead Generation.
Online reputation management.
Search Engine Optimisation (SEO).
Social Media Marketing.
Why Should You Choose Cloutlearn?
We, at Cloutlearn, SEO Training in Bangalore have the required technology as well as the experience to provide you with the kind of guidance that you require.
We ensure that you learn all aspects of social media marketing needed to make you market-ready by providing the hands-on support which you need at every step of the way. So, get business-ready with our social media training courses today.
Get Hands on Experience in Tools & Softwares
| | | | | | |
| --- | --- | --- | --- | --- | --- |
| Google AdWords | Shopify | WooCommerce | MailChimp | Smartlook | PrestaShop |
| SEO PowerSuite | SEMrush | Google Tag Manager | SocialPilot | Magento | Wordpress |
Our Clients








Copyright © 2023 Clout Learn - Corporate Training Companies