Now
Be a Digital Marketing Expert in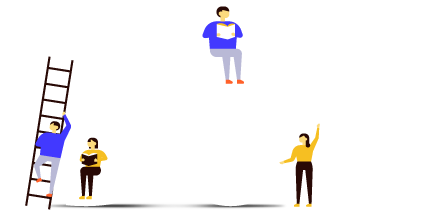 Ace the art from Best Digital Marketing Training Institute in Bangalore and be a certified expert! Master A-Z's of digital marketing course from the best mentors in the industry!
Training Institutes in Bangalore With Placements
The ultimate objective of every training institute is to ensure that its students are well-equipped to deal with the nuances and complexities of the digital world. This is why they consistently try to enhance their skill and competence levels. Furthermore, most organizations today prefer to hire individuals who don't just possess comprehensive knowledge but can also successfully handle real-time challenges.
This is precisely the edge that we at CloutLearn Social Media Training Courses in Bangalore provide.
Being one of the top rated digital marketing training and placement institutes in Bangalore, CloutLearn makes sure that its trainees are made proficient in the latest digital marketing techniques so that they can become the right fit for any organization. So only we are able to be one of the best training and placement institutes in Bangalore.
Why Do Companies Hire from Us?
We are one of the best training institutes in Bangalore with placements because the biggest names in the digital marketing industry choose to recruit our students. This is primarily owing to the fact that we:

– Provide training and placement in Bangalore in a wide variety of courses along with Google Adwords certification which ranges from content marketing, affiliate marketing, and Google analytics to search engine optimization, social media marketing, and online reputation management.

– Enable our trainees to professionally operate tools like SEO PowerSuite, Google Tag Manager, Semrush, Ahref, WooCommerce, SocialPilot, Magento and WordPress.

– Conduct interactive sessions where our experts provide personalized attention to every student and give them the adequate flexibility to experiment.

– Use presentations, workshops, group discussions, and case studies as a methodology to aid the learning process.

– Run both, beginner and advanced level courses which cater to the needs of freshers, working marketers, and entrepreneurs alike.

– Utilize state-of-the-art technology to strengthen problem-solving, organizing, and soft skills of our course takers.

As a premier institute which provides placement training in Bangalore, it is our responsibility to prepare our students for all kinds of work-related eventualities. Thus, it is no wonder that our trainees are highly sought after in digital circles.
What Is Our Placement Policy?
Rated as one of the best placement institutes in Bangalore, we offer a platform to promote interaction between our trainees and various digital marketing companies in order to help them find the best match with respect to their requirements and aspirations. We provide:

– 100% placement to all our course takers.

– A three-month internship with market leaders like Brandstory and Research Fox.

– Opportunities in all sectors which make use of digital economy, like technology, telecom, retail, banking, finance, and manufacturing.

– Placements across the entire digital spectrum covering small-scale industries, multi-national corporations, and even freelancing

projects. – Free counseling and advice to help our students pick the right job.

– A dedicated placement assistant to coordinate the recruitment process from beginning to end.

At present, we are running 352 programs with 120 qualified trainers and 17 corporates who prioritize us over other training institutes in Bangalore, with placements. Moreover, our extensive network across different businesses makes sure that placements remain an efficient, productive, positive, and seamless affair.
At CloutLearn we understand and track the continuously changing dynamics of the job market. This enables us to figure out the ever-transforming needs of the digital marketing sector. Based on these factors, our expert trainer's design strategies and restructure courses to suit the industry standards. Our ability to adapt as per different organizational requirements is indeed our greatest strength.
So, if you are looking for a good institute for digital marketing Training Institutes in Bangalore with Placements, CloutLearn is your one-stop source. We aim to innovate, educate, and inspire!
Get Hands on Experience in Tools & Softwares
| | | | | | |
| --- | --- | --- | --- | --- | --- |
| Google AdWords | Shopify | WooCommerce | MailChimp | Smartlook | PrestaShop |
| SEO PowerSuite | SEMrush | Google Tag Manager | SocialPilot | Magento | Wordpress |
Our Clients








Copyright © 2023 Clout Learn - Corporate Training Companies